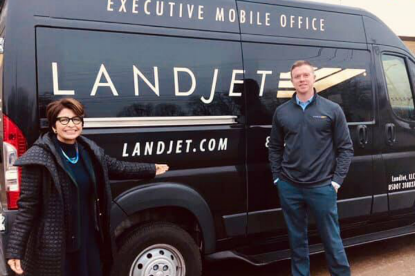 Quad-City company makes traveling for business productive and luxurious
October 16, 2018 | Quad-City Times
A few years ago, Quad-City executive Jim Thomson grew tired of spending hours traveling for business meetings that only lasted half an hour.
"One day I had to drive to Des Moines for a 15-minute meeting, and I drove home and said, 'boy, I just wasted five hours,'" Thomson, a former Deere & Co. executive and local business investor, said.
He decided to buy a Dodge Caravan, which a friend retrofitted with a desk and other work equipment. After hiring drivers, Thomson said he began making the most of his long hours on the road, working in his makeshift mobile office between appointments.
Thomson is a major investor in several Quad-City businesses, including Minute Suites, the virtual reality gaming center Paradigm, the high-tech coffee shop QC Fuel and Orangetheory Fitness. A couple of years ago, he met another busy Quad-City executive, Mark Ross, for lunch.
Ross, CEO of ALM Positioners in Rock Island, said they started talking about potential ventures, and came up with the idea of turning Thomson's mobile office into a business.
They decided to rent out luxury mobile offices to executives who wanted to be productive while traveling. Ross said the vehicles are "somewhere between a high-end limo and a Charter flight," and typically feature a desk, televisions, USB and other plug-ins, refrigerator, printer, mobile Wi-Fi and more.
The closest provider of luxury mobile offices was an Indiana-based company, LandJet, Ross said. Founded in 2005, LandJet primarily retrofitted and sold the vans-turned-offices.
"We went through Iowa Venture School, which is through the University of Iowa, and they have you talk with your potential clients," Ross said. "One thing that came up was that it would be nice if we were able to sell the LandJets as well. So we approached the owner of LandJet in Indiana and decided we could purchase the intellectual property and infrastructure, which is mostly the website."
The two Quad-City businessman acquired the company in August. Now, the ownership is made up of about six investors, including the founder of LandJet, Ross said.
The group has hired four drivers, all with a customer service background, according to Ross. And LandJet will soon have two vehicles for rent in the Quad-Cities.
Right now, executives can rent the "rolling board room," Ross said, which fits between four and six people. In a few weeks, customers also can rent a smaller "rolling office," to fit one to three people.
"The ideal customer is somebody who has a project three hours away, where they value their time and want to be productive while they travel," Ross said. "For the rolling office, it'd be perfect for CPAs, attorneys, engineers, architects and insurance people. The rolling boardroom is perfect for franchisers, salespeople or anyone traveling in a group. It could be a board of directors going to meetings, Realtors picking up clients or a team prepping for a meeting."
While limo services are easy to find, the owners said they hope to take advantage of the gap in the market for luxury mobile offices. Ross said LandJet has already had customers use the service for traveling between airports, too.
The mobile offices are available for rent at an hourly rate, or through an annual VIP rate, Ross said. For more information, visit the LandJet Facebook page.
https://qctimes.com/business/quad-city-company-makes-traveling-for-business-productive-and-luxurious/article_882ef2da-0776-53bc-bd6f-2dd07979b245.html