Have you ever dreamed of owning your own transportation business and providing a unique, one-of-a-kind service to the modern business traveler? Look no further than LandJet – the private, chartered transportation service that's revolutionizing the way people travel.
With our innovative business model, you can become a part of the LandJet family and offer your clients a stress-free adventure on the road. Our custom Sprinter office settings are designed to make travel comfortable and efficient, and our commitment to safety ensures that your clients will arrive at their destination feeling refreshed and ready to take on the day.
As a LandJet franchise owner, you'll benefit from a proven business model, comprehensive training, and ongoing support from our experienced team. You'll also have the opportunity to tap into a growing market of business travelers who demand more from their transportation providers.
So why wait? Take the first step towards owning your own business and providing a unique, one-of-a-kind service to the modern business traveler. Contact us today to learn more about becoming a LandJet franchise owner.
The Top 5 Reasons to Join the LandJet Family
Innovative business model (low competition)
Broad market appeal (B2B and B2C)
Be connected with your business community
A rapid-start-up partner
Love what you do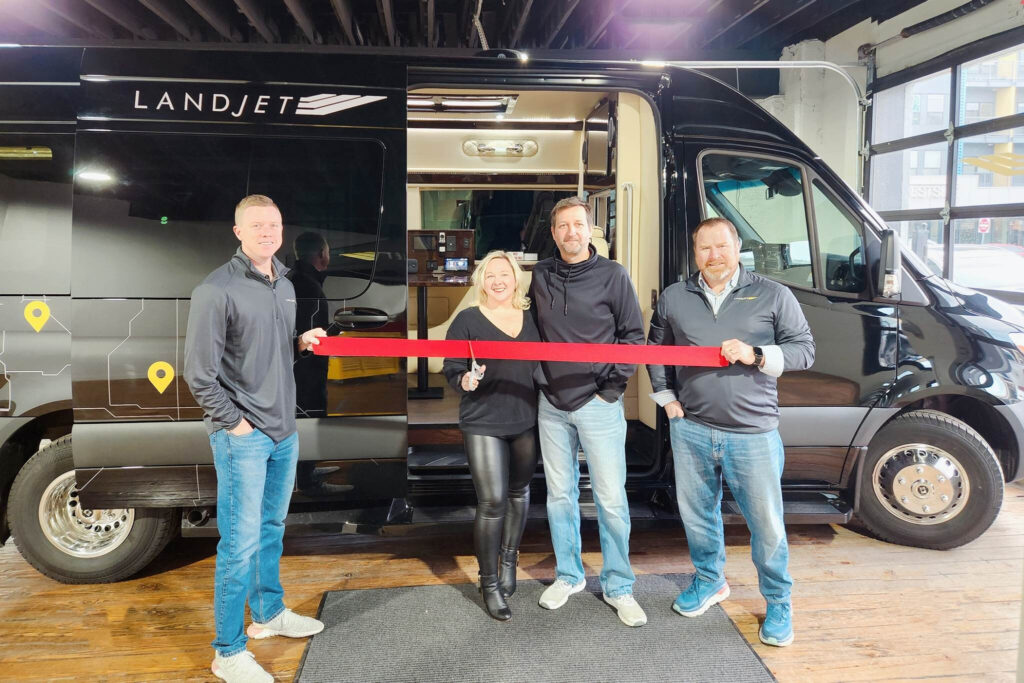 Support You Can Count On
Our team is here throughout the life of your franchise! We believe that our success is linked, and this is a long-term partnership. Experience top-quality support to ensure the business is running smoothly.
Sharing our experience through training curriculum
Our hands-on training provides the ins and outs of setting you up for success. We learned it the first time – you get a leapfrog on that learning curve. Throughout the life of your franchise, our team is here for you with continual guidance and field support.
Providing ongoing operational support to run your business
As part of our franchise network, we'll provide the necessary tools to enable a streamlined process including business accelerator kits and accounting, HR, payroll, and reservation systems to reduce administrative burden and optimize the learning curve.
Complementing your marketing with ours
Part of our franchise package includes proven marketing strategies that we've used for over 3 years to guide you to optimal growth.
Commitment to winning
We work with you to set your franchise up for success. Whatever your goals, we'll help you achieve and exceed your expectations. Leverage our leadership team's experience and get up and operating quickly! We believe our successes are linked.
Above all, we're looking for people who share our obsessive dedication to high-end customer support. We treat our clientele as part of our extended family and pride ourselves on top-notch client relations.