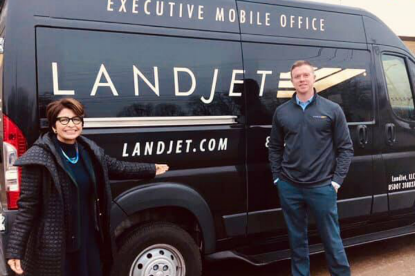 Not your typical taxi; LandJet taking over the streets of the Quad Cities
October 30, 2018 | WQAD
DAVENPORT– It's a bus, it's a plane, no, it's an office.
A new business concept in the Quad Cities is transforming the way you travel for work. The CEO of LandJet, the office on wheels, says the concept could not only save you money, it can make you money.
In the United States, $1.3M business trips are taken every day. Whether it's by land or by air, those trips can add up.
According to Business-Travel-Statistics, every year, business owners in the US spend more than $319B on travel expenses. Quad Cities entrepreneur Mark Ross is changing that. He is changing business travel from cost to profit.
His company, LandJet, just launched October 1, 2018. He has created an office on wheels, of sorts, called The Rolling Board Room.
As long as it's within an 8 hour radius, a personal driver will get you to your business destination without disrupting your work flow.
It costs $200 an hour to rent the Rolling Board room which seats up to six people. The company does offer a smaller version called The Rolling Office. It costs $125 per hour and seats up to three people.
So far Ross has made trips to Appleton, Wisconsin, Kansas City, Springfield, Des Moines, Cedar Rapids, and Chicago.
The Rolling Board Room comes with a full sized desk, a TV projector screen, charging stations, and enhanced wifi access.
While it may take you a bit longer to reach your business destination that it would take to travel on a plane, the idea is it will cost less and you can work while you travel.
"If you're billing your client for $200 an hour, and you can use this for $100 an hour, you could be making $100 an hour while you travel," explains Ross.
The office on wheels is not your typical taxi service. In fact, it's the first of its kind in the country.
"If you just want to go from point A to B, we're not the most cost effective. But if you value your time and want to be productive while you work, it makes a lot of sense," says Ross.
LandJet is making the millions of business trips taken more productive, stretching every dollar a little further.
The Rolling Board Room can also be rented for entertainment purpose trips. Ross says four sets of golf clubs can fit in the back as well.
https://wqad.com/2018/10/30/not-your-typical-taxi-landjet-taking-over-the-streets-of-the-quad-cities/