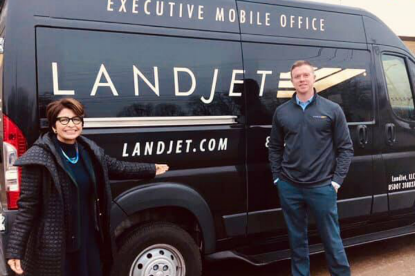 A company launches a mobile office vehicle
May 8, 2019 | KWWL
(NBC)–There's a new company in Iowa and it's making it easier for people to do work on the go.
Landjet is an executive mobile office vehicle. The company rolled into Des Moines last month, after launching in the Quad Cities at the end of 2018.
"Our chairman was the founder of this idea because he was actually traveling about five hours round trip two to three times a week," says LandJet President, Nicholas Thul.
The Landjet vehicle wants to cut the amount of time you have to drive and do work by combining the two factors. Vehicles come with a driver, privacy screen, adjustable lighting, internet, and everything you can find in a typical boardroom. The pricing varies by vehicle. Renting a Landjet starts at 35 dollars per hour, per person.
The company plans to grow in other Midwest markets down the road.
https://kwwl.com/news/2019/05/08/a-company-launches-a-mobile-office-vehicle/